In this four-part series on pool safety we've already looked at ways to prevent slip and fall accidents, measures to prevent drowning, and ways to keep pool chemicals at safe levels. In this final article, we'll add one essential tip for helping to keep swimmers safe in your pool: implementation and enforcement of rules.
Rules and guidelines are necessary for safety in practically every area of life. The same is true when it comes to your backyard swimming area. First, we'll cover a list of some basic rules to consider requiring your guests to follow. Then we'll add some tips on making sure your rules are respected.
1. Develop a Concrete Set of Rules
As the saying goes, if you aim at nothing, you're likely to hit it. Simply telling an excited group of youngsters at a pool party, "Be safe in and around the pool," just won't cut it when it comes to ensuring pool safety. You have to make sure the kids know what the rules are in the first place.
Listed below are some rules you should definitely consider putting in place when it comes to creating a safe, sanitary environment for your backyard swimming area.
A. No running in or around the pool.
This rule was already mentioned in our first article about avoiding slip and fall injuries. The reason for it is obvious: since the pool deck, steps, and tiles can be slippery when wet, swimmers need to avoid running on them so they won't fall and get hurt.
B. No swimming without adult supervision.
It's never, ever a good idea to allow kids to swim without a responsible adult nearby watching them. Also, make sure that any adult left in charge of watching the children knows that they need to keep their eyes on the kids and not be distracted by looking at magazines or cell phones.
C. No diving in the shallow end of the pool.
Plenty of people have broken their necks diving into the shallow end of a pool or pond. Make sure swimmers in your pool know that in the shallow end – that is, in 6 feet depth of water or less – they should never, under any circumstances, enter the pool any other way than feet first! In fact, there should be no head first diving unless the water is at least 8 feet deep.
D. No swimming alone.
Though not everyone may agree with this rule, it's a good idea even for adult swimmers to adhere to the buddy system. Even someone who is a strong swimmer could experience an unexpected medical emergency while in the pool, such as a heart attack, stroke, or fainting spell. Having another person nearby could prove to be lifesaving in the event of such an emergency.
E. No urinating or defecating in the pool.
Though this rule should go without saying, make sure to mention it, especially to kids. They often get carried away while playing and don't think it's a big deal to urinate in the pool. While chemicals can help mitigate the contamination caused by urinating in the pool, it's still a potential hazard and just a nasty habit. Defecation can cause even worse problems, including bacterial contamination.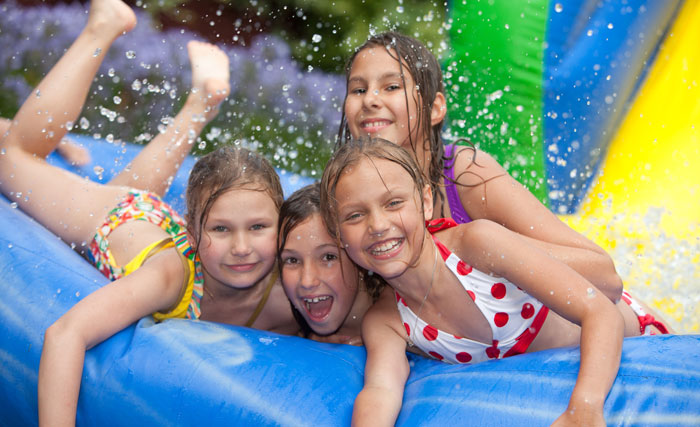 F. No using glass cups or dishes in the pool area.
Glass cups and dishes getting dropped and broken on your deck surface could be a potential nightmare for swimmers with bare feet. Tiny shards of glass can be extremely difficult to clean up. It's much safer to stick to plastic or other hard-to-break materials when dining or snacking poolside.
2. Post your Rules in a Prominent Location
The above list of rules is just a suggestion of some practical safety guidelines you could implement for your pool, though you may want to include even more. Once you've come up with your list of rules, post them on a sign with large, easy-to-read print in a noticeable location near your pool, such as on the inside of the fence around your pool area.
3. Enforce your Pool Rules!
Rules are only effective when they're enforced. Make sure anyone who uses your pool is made aware of the rules in advance. Watch to make certain the rules are being followed and set up consequences for those who break the rules, such as sitting out for a certain amount of time after they violate a rule.
If you have guests that refuse to obey your pool rules even when warned, forbid them from using your pool. Whether they're relatives, friends, or neighbors, they don't have a right to use your pool if they won't respect your rules. You have a responsibility to do your part to make the pool a safe, pleasant environment for all swimmers. Making and enforcing rules are essential steps in that process.
Hopefully, this series of pool safety articles will give you some of the tools you need to make your backyard pool area as safe as possible.
Read More
• Swim Your Way to Fitness Without Breaking a Sweat!
• Maintenance Tips for Your New Pool: Monthly & Occasional Tasks
Lyon Financial
Since 1979 Lyon Financial has made the backyard resort dream come true for over 400,000 families across the U.S. Through our solid relationships with more than 3,000 pool contractors and our continued commitment to putting our clients first, we have built a reputation as the first choice in providing pool financing solutions. For more information, visit lyonfinancial.net or call (877) 754-5966 today.