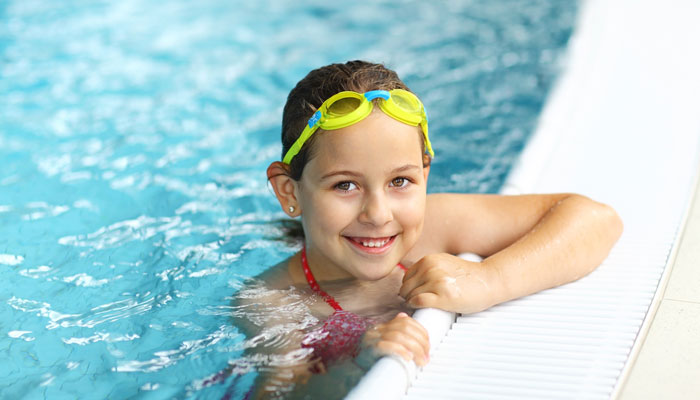 Listed below are some questions and answers about winter pool covers (see Parts 1, 2, 3 & 4). After reading them, you'll be able to better figure out which pool cover option you should select for your pool.
What does a winter pool cover do?
A winter pool cover can have several different jobs depending on the type of cover you choose. Its primary function is to keep your pool protected from wind, weather, and debris. Additionally, it should keep your pool water warmer as well as slow algae growth. If you go with the safety cover option, you'll have the added benefit of the cover working to keep pets and children out of the pool.
What do I do if my pool cover gets damaged?
The answer to this question depends on how extensive the damage is. If it's just a little rip, you can probably repair it on your own using the patch kit we discussed in our last article. If there is a significant number of holes or rips due to a heavy storm or because the cover is getting old and worn out, it's probably time to replace it instead of trying to patch it up.
Do winter pool covers require a pump?
Some winter pool covers need a pump and some do not. If you choose a solid pool cover, it should have a pump. That's because it can trap water from melted snow and rain on top of the pool cover. If too much water collects up there, it could possibly push the cover down into the pool. If you get a mesh pool cover, you won't need to get a pump as the excess water can simply move straight down through the holes in the mesh cover.
How do I care for my pool cover?
In addition to patching any small holes or tears promptly, you'll want to keep your pool cover clean. Keeping it clean will help your pool cover last longer.
Here are some pool cover cleaning tips:
Use dish soap and a brush to gently wash the cover each season. The more chemical free and dirt free your cover can stay, the better. Always get rid of any visible snow or debris as soon as you notice it. You can put a leaf catching net on top of the cover for easy cleanup. This is especially helpful for pools in areas where they accumulate a lot of leaves from nearby trees.
Don't put the cover on your pool right after adding chemicals. If you wait a few hours first, your pool cover will run less risk of chemical damage. Inspect your pool cover to see if it's damaged before you put it on for the winter. Taking care of damage before installation will save you time and help to make your pool cover more effective.
How much can I expect to pay for a pool cover?
The cost of a pool cover will vary depending on the type of cover as well as the shape and size of pool you own. Typically, standard covers are the least expensive, automatic covers cost the most, and safety covers fall somewhere in the middle. You can discuss the different options with a pool equipment supplier to try to get a ballpark figure for the cover you're hoping to purchase.
When will I need to replace my pool cover?
The answer to this question will also depend on the type of cover you choose. Quality safety covers can last up to 15 years while standard covers may only last three years. The weather in your area may also be a factor in the longevity of your pool cover.
Hopefully this article series has given you a good introduction to the subject of winter pool covers. To learn more about this essential piece of pool winterizing equipment, speak to a pool equipment expert.
Read More
• Raising the Bar on Outdoor Pubs (and other!) Backyard Renovations
• Outdoor Kitchens: The Great Outdoors Just Got Greater
Lyon Financial
Since 1979 Lyon Financial has made the backyard resort dream come true for over 400,000 families across the U.S. Through our solid relationships with more than 3,000 pool contractors and our continued commitment to putting our clients first, we have built a reputation as the first choice in providing pool financing solutions. For more information, visit lyonfinancial.net or call (877) 754-5966 today.