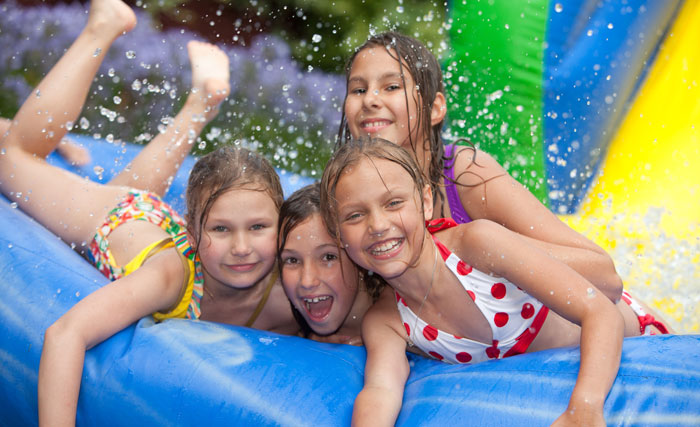 In this final article in our series on creating your very own backyard water park (see Parts 1, 2, 3 & 4), we'll discuss some of the most innovative features you could include in your design. These are the types of extras that will really take your mini water park to the next level.
Encourage Adventure by Adding a Cave
One of the most exciting ideas you could include in your backyard water park design is a cave area over part of the pool. You can create this feature using stone for a natural look. You'll want to talk to an experienced hardscaping expert about how to design a cave feature that's safe and strong. You could even add a waterfall cascading down into the pool from the top of the cave. The kids will have a blast ducking in and out from under this fun feature.
Increase Visibility With Underwater Lighting
If you want to get as much use out of your backyard water park as possible, installing plenty of extra lighting both inside and outside of the pool is a must. Not only is it important for safety, but it can also add charm and class to your pool's atmosphere. There is a wide selection of different pool lighting options available, from the tried-and-true incandescent lights that have been around for decades, to the newer and more efficient LED options, to color changing fiber optic lights. You can use just one of these options, or combine them together to take advantage of the unique advantages they each have to offer.
Get Wet in Style With Water Jets and Fountains
One way to give your pool area a real water park look and feel is to add a variety of different fountains and water jets. You and your guests will love getting to watch these elegant streams of water shooting through the air. You can add color changing lights to them for your very own poolside light show!
Lush Trees and Plants Provide a Luxurious Garden Ambiance
If you want your water park to look like a tropical garden, a western wilderness park, or a desert oasis, you can create your ideal atmosphere with creative landscaping. You could take your cues from your home's actual surroundings or go with a look that's decidedly different from your home's environment. Just keep in mind that certain plants grow better than others in specific regions of the country. You may want to speak to an Arborist at your local garden center to find plants that will work well in your yard. If you're set on going with plants that don't grow in your area, you may have to opt for some realistic looking faux trees, bushes, and flowers. Though they may not be authentic, they'll be easier to maintain than live plants!
The most important thing to remember when it comes to designing your backyard water park is to choose options that fit your individual taste and budget. There's no one-size-fits-all cookie-cutter plan that will be right for everyone. You want your space to reflect your own unique style. Hopefully, this series of articles will give you some ideas so you can get started planning the mini water park of your dreams!
Read More
• Lyon Financial: Our Pool Loan Process & Frequently Asked Questions
• Swimming Lessons for Children
Lyon Financial
Since 1979 Lyon Financial has made the backyard resort dream come true for over 400,000 families across the U.S. Through our solid relationships with more than 3,000 pool contractors and our continued commitment to putting our clients first, we have built a reputation as the first choice in providing pool financing solutions. For more information, visit lyonfinancial.net or call (877) 754-5966 today.