Second only to maybe making sure your swimming pool has water in it, performing regular swimming pool maintenance tasks will have the greatest impact on your ability to utilize your in-ground swimming pool — and continue to use it for decades to come! We've already taken a look at the daily and weekly pool maintenance tasks all pool owners need to plan to perform, so now we'll take a look at monthly and more occasional maintenance tasks.
Monthly Cleaning of Filtration Pipes
We're assuming here that you're already adept at more regular pool maintenance activities such as weekly filter cleaning and daily skimming — both of which will help your filter do its job without being unnecessarily taxed. Even then, though, you'll still need to clean out the filtration system's pipes on approximately a monthly basis. Simply set your filter to the setting marked "backwash," remove the leaf basket, and clean it out. Once the basket has been cleared of any debris, turn on the pump and run it until what's flowing out of the waste pipe appears clear.
On a side note, make sure you're running your swimming pool filter for at least 6 hours a day. You can use a timer to automatically ensure that your filter runs each day (or night). Whatever you do, though, make sure you're not constantly turning your filter on and off, or you'll cause damage and need to replace or repair it more often than you otherwise would.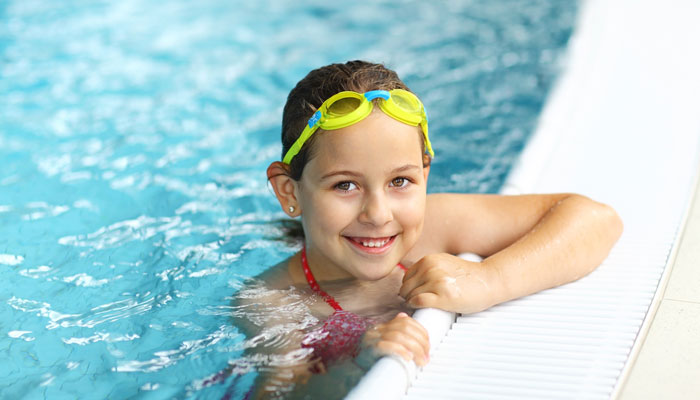 Occasional Shocking of Pool Water
Again, we're assuming you're performing more routine pool maintenance tasks, such as weekly chemical testing. Even so, you'll need to perform an additional task related to chemicals on an occasional basis. It's called "shocking" your pool. Essentially, you'll raise chlorine levels significantly in order to kill any bacteria that has built up. You may notice a buildup of bacteria showing up as murky water after a pool party or simply over the course of pool season. Expect to shock your pool approximately twice per year.
To clear up cloudy water and kill bacteria, you'll shock your swimming pool water by pouring approximately 5 times the usual amount of chlorine into your water return line. Once the chlorine filters through, your pool water should again appear clear and clean.
Occasional Removal of Surface Oils
Have you ever noticed, even when your pool water appears clear, that it can get an oily sheen on its surface? These surface oils are often caused by a combination of natural body oils and artificial oils from various products which people use on their skin and hair. Unlike cloudy water, shocking won't correct this issue. The good news is, it's even easier to remedy: all you need is a standard tennis ball. Simply throw it into the water, and the ball's fibers will naturally absorb the oils, leaving the surface of your pool water free from that oily film. If this issue comes up often for you, feel free to keep a tennis ball floating in your pool; you really can't overdo this one.
Read More
• High-Tech Pool Safety Technology
• Top Five Benefits of Swimming
Lyon Financial
Since 1979 Lyon Financial has made the backyard resort dream come true for over 400,000 families across the U.S. Through our solid relationships with more than 3,000 pool contractors and our continued commitment to putting our clients first, we have built a reputation as the first choice in providing pool financing solutions. For more information, visit lyonfinancial.net or call (877) 754-5966 today.