You want everyone who comes to your home for a pool party to leave with great memories of a festive occasion. As we emphasized in our first article in this series, a fun kids pool party is a safe kids pool party. Once you've prepared your pool and the surrounding area and designated responsible adult supervisors to watch the kids as they swim, you can move on to the next important step: letting everyone know the rules.
Post and Explain Pool Rules as Soon as Guests Arrive
When all the kids arrive for the party, gather them together to go over the rules. Many kids are already used to this sort of thing from their experiences at school or at other activities. Let them know that the rules will be strictly enforced, because you want everyone to have a good time and don't want to see anyone get hurt. The following is a list of basic, common sense pool rules you could adopt for your party or for anytime guests swim in your pool.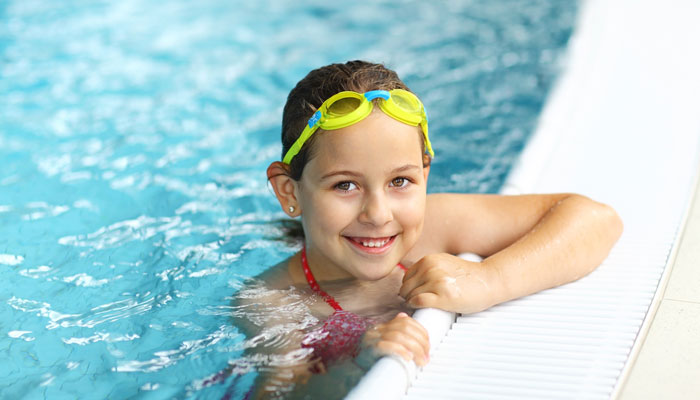 1. Don't run anywhere on the pool deck or patio.
Explain that wet surfaces can be really slippery and you don't want anyone to fall and get hurt. This rule should be pretty easy for everyone to understand, but it's one of the ones that excited children tend to break pretty quickly. That's why it's important that the first time the pool watcher notices someone running next to the pool, they verbally correct the person. If the same child runs again, they should be asked to sit out for a while. The same enforcement steps can be taken for any rule violations.
2. Always jump into the pool feet first.
If you have a deep end with a diving board, this rule would be modified to jumping in feet first in the shallow end. Make sure kids know where the deep end starts, and where it's safe to dive into the water. If you have a deep end, it's still a good idea only to allow diving off the diving board so that the kids don't get mixed up and accidentally dive into the shallow end.
3. Don't play rough.
You can give your own specific examples of not playing rough. Typically, not allowing pushing, shoving, or dunking are good examples of rough play that should not be allowed. Though some kids may not like these restrictions, they're necessary for safety, especially when you have swimmers of different ages, sizes, and ability levels present. Since kids often find new and creative ways to play rough that you never dreamed of, the pool watcher will probably have to let kids know throughout the day if their activities are in violation of this rule.
4. Always Look Before You Leap
If the pool is pretty crowded you could end up with the problem of kids jumping into the water on top of others and hurting them. Or, they could end up landing on a pool toy and damaging it or injuring themselves. That's why it's so important for kids to always make sure the area is clear before jumping into the water.
With these simple rules in place, you'll be almost completely ready for an enjoyable kids pool party. In our final article, we'll consider just a few more ways for you to go above and beyond to provide your guests an even greater level of pool safety.
Read More
• Miles of Pool Tiles: Which to Choose?
• Top Five Benefits of Swimming
Lyon Financial
Since 1979 Lyon Financial has made the backyard resort dream come true for over 400,000 families across the U.S. Through our solid relationships with more than 3,000 pool contractors and our continued commitment to putting our clients first, we have built a reputation as the first choice in providing pool financing solutions. For more information, visit lyonfinancial.net or call (877) 754-5966 today.